When you think of the bodybuilding landscape in the late '90s and early 2000s, one name rises above all the rest: Ronnie Coleman. For nearly a decade, "The King" laid waste to his competition, securing a record eight Mr. Olympia titles (tied with Lee Haney) and 26 pro wins during a career that revolutionized the entire sport.
Beyond his performances on the stage, Coleman is also remembered among pure strength athletes as one of the strongest bodybuilders ever, thanks to feats like his iconic 800-pound squat, which has more than 60 million views on YouTube.
You can learn more about the life and career of this bodybuilding icon below.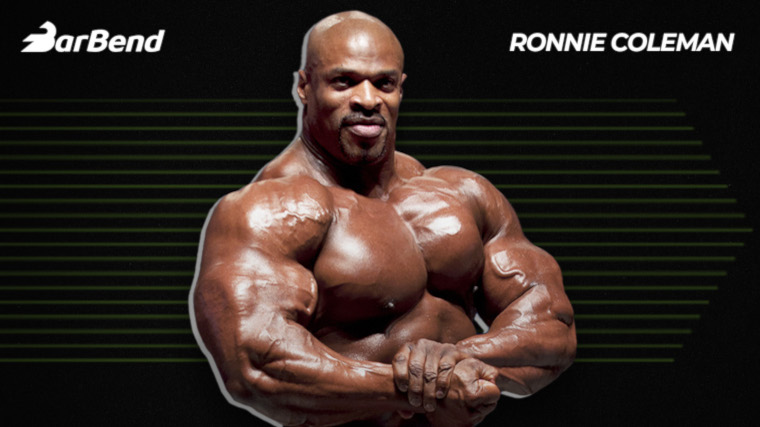 [Related: 10 Facts About the Mr. Olympia Bodybuilding Competition]
Early Life and Police Career
Ronnie Coleman was born in Bastrop, Louisiana, on May 13, 1964, and later played college football as a middle linebacker for legendary coach Eddie Robinson at Grambling State University.
He graduated with a degree in accounting and looked to put his education to good use with a career crunching numbers. But after relocating to Texas, Coleman couldn't land a job in the field, so he answered an ad for a police officer position while working at a Domino's Pizza.
He graduated from the police academy soon after and joined the Arlington Police Department. Amazingly, he'd remain on the force until 2004, even as he later racked up Mr. Olympia wins at the top of the sport.
Turning Pro
Along the way, Coleman started training at the famed Metroflex Gym in Arlington. It was here where owner Brian Dobson saw the 24-year-old's potential in bodybuilding and convinced him to compete in a contest in exchange for a free gym membership.
Coleman eventually began entering local bodybuilding shows and won the title of Mr. Texas in 1990. He turned pro the next year with a victory at the International Federation of Bodybuilding & Fitness (IFBB) World Amateur Championships. That victory earned him an invite to compete in the 1992 Mr. Olympia, where he finished outside of the top 15 in his debut.
[Related: 10 Bodybuilders With the Most Impressive Olympia Debuts in History]
He returned to the Olympia stage in 1994, finishing in 15th. His first pro win came one year later at the Canada Pro Cup, which earned him another trip to the Olympia, where he moved up to 11th. He repeated as Canada Pro Cup champion in 1996 and rose up to sixth at the Olympia that year.
Though Coleman's trajectory was pointing up, a third-place finish at the 1997 Ironman contest had him briefly considering retirement. At the show, he placed behind runner-up finisher Lee Priest, who was six inches shorter and almost 60 pounds lighter. Though he later called the loss the most "painful" of his career, Coleman decided to carry on, and he wound up finishing ninth at that year's Mr. Olympia.
Coleman's biggest victory at this point in his career came after the Olympia on an international tour with the IFBB, where he defeated Kevin Levrone at the Grand Prix in Russia. This served as the kickoff for his run to the top of the sport.
Ronnie Coleman's First Mr. Olympia
Coleman won two shows in 1998 and placed second in another before entering Madison Square Garden in New York City for that year's Mr. Olympia.
This was the first Olympia following Dorian Yates' retirement, so fans were guaranteed to see a new champion for the first time in six years. Flex Wheeler, Kevin Levrone, Shawn Ray, and Nasser El Sonbaty ranked among the favorites, while Coleman was, at best, an afterthought.
But something had changed in the year since Coleman's last Olympia appearance: He began working with new coach Chad Nicholls. The duo instantly gelled, and Coleman walked onto the stage that year looking bigger and more conditioned than ever.
In a huge statement to the entire industry, Coleman won that year's top prize in an upset for the ages — but he was far from finished.
"The King" won a string of shows afterward, including two more Olympia titles in 1999 and 2000. He was a fighting champion, appearing in contests around the world and regularly besting the likes of Wheeler, Levrone, Ray, and Chris Cormier. But he began facing stiffer competition as his burgeoning dynasty marched on.
A Dynasty Put to the Test
Coleman started 2001 by winning the Arnold Classic, marking the only time a reigning Mr. Olympia had won the show. But he ran into some unexpected trouble later that year when he went to defend his Olympia crown.
At the show that year in Vegas, a young Jay Cutler pushed the champ to his limits — and even today, many think "The King" deserved the runner-up spot that night, especially after he lost on points to Cutler after the prejudging round. Though Coleman eventually eeked by in a controversial decision, it was the first time he looked vulnerable since 1998.
[Related: The Story Behind the Chaotic Drug-Tested 1990 Mr. Olympia]
The 2002 Olympia saw Coleman again beat out Levrone and Cormier for the title, and it seemed like he was fully back on track to continue his run. But he and the rest of the bodybuilding world were in for a shock a few weeks later at the GNC Show of Strength contest.
Coleman showed up to the competition in New Orleans off the mark; Germany's Günter Schlierkamp, on the other hand, was more impressive than ever. By night's end, the 300-pound Schlierkamp scored a titanic upset, leaving Coleman as the first reigning Mr. Olympia to lose a non-Olympia contest since Sergio Oliva lost to Arnold Schwarzenegger at the 1970 Mr. World.
Redemption Song
Looking to reclaim his spot as the sport's unrivaled juggernaut, Coleman went to work and trained heavier and harder than ever, chronicling his grueling prep in the workout video The Cost of Redemption.
He returned to the Olympia in 2003 at an astonishing 287 pounds and made quick work of Cutler and Schierkamp en route to his sixth Sandow trophy. It was the same story in 2004, but he had put on even more weight to fill out his already massive physique.
His eighth and final Olympia win came in 2005, when he tied Lee Haney's mark for the most titles ever. He looked to secure sole possession of the record in 2006, but a dialed-in Cutler finally managed to dethrone his longtime rival once and for all after a five-year pursuit.
Coleman attempted a comeback in 2007, but he tumbled down the standings to fourth place. It was his final show as a professional bodybuilder.
Ronnie Coleman's Competition History
Coleman's bodybuilding career ended with 26 pro wins and eight Mr. Olympia titles to his credit. Here's his full contest history, courtesy of Muscle Memory:
1990 NPC Nationals, 3rd (Heavyweight)
1991 NPC Nationals, 4th (Heavyweight)
1991 NPC USA Championships, 14th (Heavyweight)
1991 IFBB World Amateur Championships, 1st (Heavyweight)
1992 Chicago Pro Championships, 11th
1992 Night of Champions, 14th
1992 Mr. Olympia, Did not place
1993 Chicago Pro Championships, 6th
1993 IFBB Grand Prix France, 4th
1993 IFBB Grand Prix Germany, 6th
1993 Niagara Falls Pro, 6th
1994 IFBB Grand Prix France, 3rd
1994 IFBB Grand Prix Germany, 3rd
1994 Mr. Olympia, 15th
1994 San Jose Pro Invitational, 4th
1995 Canada Pro Cup, 1st
1995 IFBB Grand Prix France, 4th
1995 IFBB Grand Prix Russia, 6th
1995 IFBB Grand Prix Ukraine, 3rd
1995 Houston Pro Championships, 6th
1995 Night of Champions, 3rd
1995 Mr. Olympia, 11th
1996 Canada Pro Cup, 1st
1996 Florida Pro Invitational, 2nd
1996 IFBB Grand Prix England, 5th
1996 IFBB Grand Prix Germany, 5th
1996 IFBB Grand Prix Spain, 5th
1996 Night of Champions, 2nd
1996 Mr. Olympia, 6th
1997 Arnold Classic, 4th
1997 IFBB Grand Prix Czech Republic, 4th
1997 IFBB Grand Prix England, 5th
1997 IFBB Grand Prix Finland, 3rd
1997 IFBB Grand Prix Germany, 5th
1997 IFBB Grand Prix Hungary, 6th
1997 IFBB Grand Prix Russia, 1st
1997 IFBB Grand Prix Spain, 7th
1997 Ironman Pro Invitational, 3rd
1997 Mr. Olympia, 9th
1997 San Jose Pro Invitational, 6th
1998 IFBB Grand Prix Finland, 1st
1998 IFBB Grand Prix Germany, 1st
1998 San Francisco Pro, 2nd
1998 Night of Champions, 1st
1998 Mr. Olympia, 1st
1998 Toronto Pro, 1st
1999 IFBB Grand Prix England, 1st
1999 Mr. Olympia, 1st
1999 World Pro Championships, 1st
2000 IFBB Grand Prix England, 1st
2000 Mr. Olympia, 1st
2000 World Pro Championships, 1st
2001 Arnold Classic, 1st
2001 IFBB Grand Prix New Zealand, 1st
2001 Mr. Olympia, 1st
2002 IFBB Grand Prix Holland, 1st
2002 Mr. Olympia, 1st
2002 Show of Strength Pro Championships, 2nd
2003 IFBB Grand Prix Russia, 1st
2003 Mr. Olympia, 1st
2004 IFBB Grand Prix England, 1st
2004 IFBB Grand Prix Holland, 1st
2004 IFBB Grand Prix Russia, 1st
2004 Mr. Olympia, 1st
2005 Mr. Olympia, 1st
2006 IFBB Grand Prix Austria, 2nd
2006 IFBB Grand Prix Holland, 2nd
2006 IFBB Grand Prix Romania, 2nd
2006 Mr. Olympia, 2nd
2007 Mr. Olympia, 4th
"The King's" Training Style
Given his sheer size and strength, it shouldn't come as a surprise that Coleman briefly dabbled in the world of powerlifting early in his career. He even won a handful of deadlift-only meets in Texas in his 20s, and he continued to use heavy compound lifts throughout his Olympia run.
Though he's still known for feats like an 800-pound deadlift and 495-pound bench press (for reps!), he also performed more traditional bodybuilding workouts, like this back routine that combines free weights and machines:
Ronnie Coleman's Injuries and Surgeries
The years of heavy lifting and non-stop training eventually caught up to Coleman, and he was forced to undergo over a dozen surgeries in the mid-2010s to repair various hip and back issues. These operations left him using crutches and a wheelchair to move around more comfortably.
These struggles were chronicled in the 2018 documentary Ronnie Coleman: The King, which focuses on his life in retirement. But despite the setbacks, Coleman still goes to the gym regularly and is invested in passing his knowledge down to the next generation of bodybuilders.
"The King" Receives His Accolades
Even in retirement, Coleman remains a popular figure in the bodybuilding world thanks to the launch of a supplement line, appearances at conventions and on podcasts, and a robust social media presence that has earned him nearly 7 million followers on Instagram.
[Related: Best Pre-Workout Supplements of 2023]
In 2016, Coleman was inducted into the International Sports Hall of Fame, thanks to his enormous body of work and long-lasting impact on bodybuilding. Then in 2021, he was honored with the Arnold Classic Lifetime Achievement Award.
The venerable Coleman is still revered by athletes and fans internationally, and he has vowed to stay involved with the sport that he credits for the success he enjoys today.
Featured Image: B.Stefanov / Shutterstock