It's Memorial Day (or close to it). You'll have a blast hanging with your friends and family, lighting up the grill, and flipping off Winter as the last bit of chill begrudgingly fades away. But no matter the occasion, protein — the muscle-building macronutrient every gymgoer prioritizes — is always on your mind. Lucky for you, ButcherBox, the premium meat delivery service, has six recipes that are high in protein and even higher in flavor for you to impress all your guests. (Yes, even the vegetarians.)
If you're hosting a cookout, know it's about more than slapping some veggie burgers or steaks onto the grill. You want to gather the highest-quality ingredients and season it all to perfection. And if your friends are as into strength training as you are, you want to everyone can hit their macros.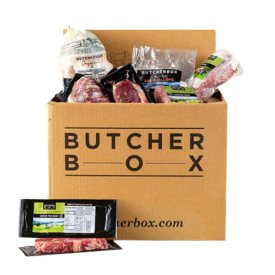 Looking to add more protein into your diet? The search for high-quality meat ends here. Amazing taste. Humanely raised. Delivered to your door. And as a BarBend reader, sign up today and get 2 lbs FREE ground beef in every box for a whole year. Imagine how many meals that is.
You know how to build muscle — intensive training and lots of protein. And you know how to host a great party — good people and good food. No one's hypertrophy goals or taste buds will get neglected at your Memorial Day cookout. Here are the best high-protein recipes for your barbecue, provided by ButcherBox.
High-Protein Memorial Day Recipes
Nigerian Chicken Suya Skewers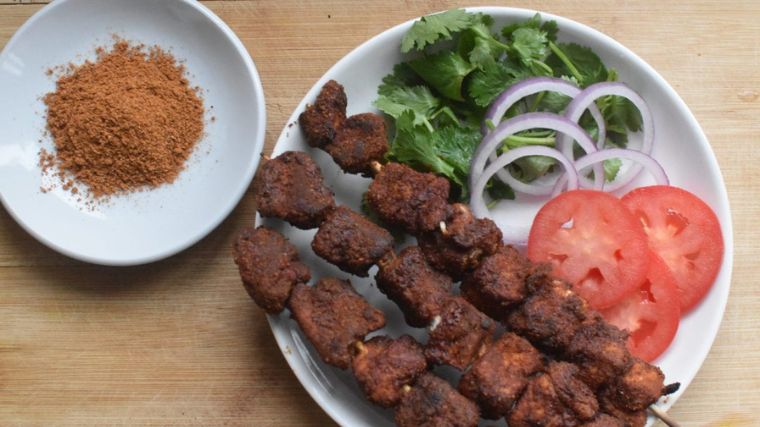 Serves: 2
Protein per serving: 32 grams per 100 grams of chicken (1)
Prep time: 25 minutes
Cook time: 10 minutes
These aren't your grandma's kebabs. Spiced to perfection, these Nigerian chicken suya skewers provide a rich smokey flavor. As a bonus, you'll create your own jar of pre-mixed spices to create this dish again and again — even after the party is over. This recipe is truly the gift that keeps on giving.
Ingredients
You'll assemble two sets of ingredients here. Try to buy the spices in bulk to reduce costs and set yourself up for future cooking success.
For the yajin kuli:
1/2 cup spooned roasted groundnut/peanut powder
1 tablespoon ground ginger
1 tablespoon sweet paprika
1 tablespoon onion powder
1 teaspoon fine sea or table salt
1 teaspoon garlic powder
1 teaspoon cayenne pepper powder
1 teaspoon freshly ground black pepper
1/4 teaspoon ground cloves
1/4 teaspoon ground nutmeg
For the chicken suya:
1 pound boneless chicken breast
3 tablespoons neutral cooking oil (We like peanut oil for this dish specifically, but any neutral oil will work.)
To serve:
Thinly sliced red onions, tomatoes, and cilantro leaves
Instructions
Again, you'll have a different protocol for grilling and the spices. Here's what to do:
For the yajin kuli:
Combine all ingredients in a jar with a lid. Secure the lid and shake to combine. This mix will keep on the counter, but you can make a bigger batch and store it in the fridge or freezer, where it will keep for six months.
For the chicken suya:
If using wooden skewers, soak them for at least 30 minutes in cold water so they don't burn during cooking.
Cut the chicken breasts into at least one-inch to 1 1/2-inch cubes.
Place chicken chunks in a large mixing bowl and drizzle the peanut oil. Sprinkle a scant 1/2 cup of yajin kuli over the chicken, reserving the rest to serve. Toss carefully to ensure coat all chicken pieces.
Thread six to eight pieces of chicken cubes onto each skewer with the pointy end up. Don't leave any space between pieces: You don't want any of the skewer exposed except for a two to three-inch section at the bottom that serves as a handle. Repeat for the rest of the chicken.
To grill:
Light the grill and lightly grease the grates.
Place the skewers on the grill and cook for five to six minutes. Flip and cook for an additional two to three minutes. If the chicken isn't completely cooked, move to indirect heat until the temperature registers 160°F.
To serve:
Transfer chicken to a platter and rest for a few minutes. Serve with fresh sliced tomatoes, red onions, and cilantro.
Note: If you can only find raw peanut powder, toast it in a dry pan on medium to low heat for seven to eight minutes, stirring constantly and making sure you're stirring to the bottom of the pan until it goes from beige to peanut butter brown.
Remove from heat and spread on a plate/baking sheet to cool. Once cool, you can pass it through a fine sieve to eliminate any clumps.
If you can't find peanut powder, use the same amount of unsweetened peanut butter.
Greek Bison Burger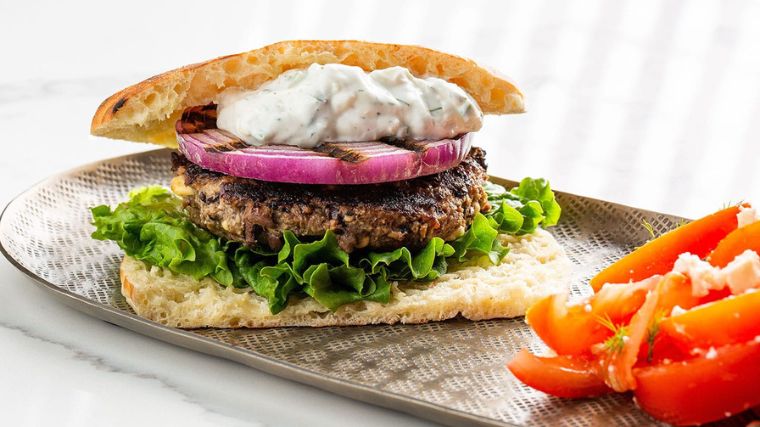 Serves: 4
Protein per serving: 25.4 grams per 100 grams of ground bison (2)
Prep time: 5 minutes
Cook time: 10 minutes
There are so many different ways to create a burger. Whether you got ground bison or beef in your last ButcherBox, you can create delicious patties with an array of toppings to bring a Mediterranean vibe to your cookout.
Don't be intimidated by making your own tzatziki sauce. It won't take long, it's simple — just combine your ingredients and mix — and it's sure to impress.
Ingredients
1 package ButcherBox ground bison (Substitute: ButcherBox ground beef)
¾ cup feta crumbled
⅓ cup kalamata olives rough chop
3 cloves garlic grated
2 tsp dried oregano
½ tsp ground black pepper
Simple Tzatziki
1 cup plain Greek yogurt
½ cup English cucumber seeded, small dice
1 tbsp fresh dill finely chopped
½ tsp kosher salt
¼ tsp ground black pepper
Instructions
Place all ingredients in a mixing bowl. Mix thoroughly.
Divide meat into four four-ounce portions. Form into patties.
Grill or sear each side for five minutes per side. Serve with favorite condiments or simple tzatziki.
Simple Tzatziki
Combines all ingredients. Serve with a Greek bison burger.
Note: If you don't have bison, ground beef also works well for this recipe.
Teriyaki Salmon Burger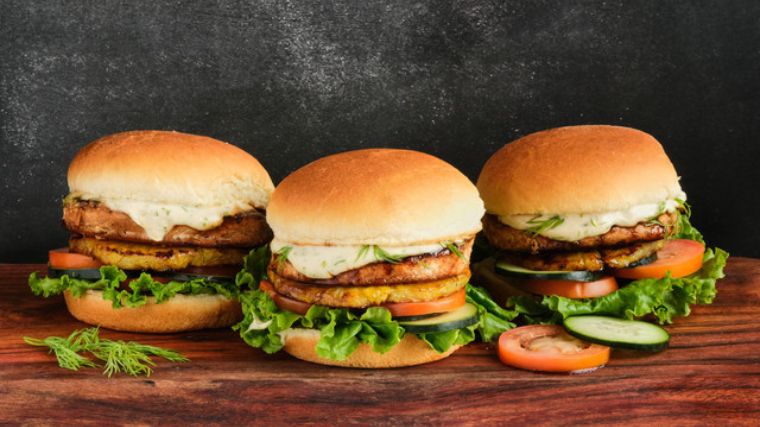 Serves: 4
Protein per serving: 25.7 grams per 100 grams of salmon (3)
Prep time: 20 minutes
Cook time: 8 minutes
Swapping beef for fish will help amp up the omega-3 content of your burgers. And these teriyaki salmon burgers are designed to be both savory and sweet, bringing a complex palate to your backyard.
Don't skip the step of coring your pineapple. If you've never done it before, it might seem cumbersome — but rest assured that the sweet, rich outcome will be well worth it.
Ingredients
1/4 cup Kewpie mayo
1 Tablespoon ponzu
1 teaspoon soy sauce
2 teaspoons chopped fresh dill
4 ButcherBox Salmon burgers slightly thawed
1 pineapple peeled, cored, and sliced into rings
1 tablespoon vegetable oil
1/4 cup teriyaki sauce
4 burger buns
Greenleaf lettuce
Hothouse tomatoes sliced
Cucumbers sliced
Instructions
Mix the Kewpie, ponzu, soy, and dill in a small bowl. Whisk all ingredients to combine. Set aside in the refrigerator.
Heat a griddle over medium-high heat on your stovetop. Drizzle some vegetable oil and sear the pineapple rings for a minute or two on each side until some browning is achieved. The browning will help release the sugars. Set aside on a plate when done.
Add a little more vegetable oil to the pan. Cook the salmon burgers for about 4 minutes on each side.
Brush teriyaki sauce on top of the salmon burger and turn once. Brush the top again and transfer the burgers to a wire rack.
Briefly toast the buns on the griddle.
Assemble the burgers by layering them in this order: toasted bun bottom, lettuce, tomato, cucumbers, seared pineapple, teriyaki salmon burger, a dollop of ponzu mayo, and the toasted burger top.
Veggie Burger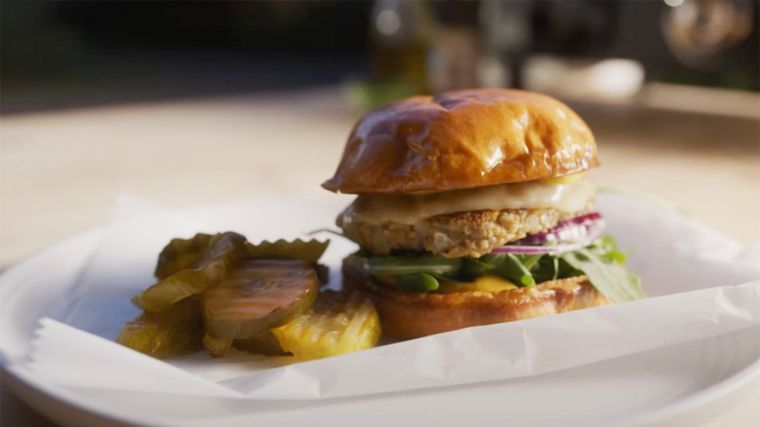 Serves: 4
Protein per serving: 8 grams per 100 grams of white beans (4); 7 grams per 100 grams of chickpeas (5)
Prep time: 10 minutes
Cook time: 20 minutes
Even if you're not a vegetarian, you want to ensure your guests eat well. Toss these on the grill in a separate veggie section or, alternatively, cook them up before adding any meat to the grill.
Especially if this is your first time making veggie burgers from scratch, you'll want to avoid them crumbling and falling through the grill grates. Cook them on a piece of aluminum foil placed on the grates. You can also place a cast iron skillet over the grill and cook the burgers in that.
Ingredients
1½ cups sliced mushrooms baby bella or another favorite
1 cup white beans
1 cup chickpeas
½ cup gluten-free bread crumbs
½ cup instant oats
1 tablespoon salt
1 teaspoon black pepper
1 tablespoon Cajun spice
2 tablespoons teriyaki glaze
½ cup diced onions
½ cup diced red bell pepper
Instructions
Add mushrooms, beans, chickpeas, bread crumbs, one-minute oats, eggs, salt, pepper, Cajun spice, and teriyaki glaze into a food processor.
Blend for 15 to 20 seconds. Pour into a bowl and stir in onions and peppers. The mixture should resemble cookie dough.
Form into four to six burgers.
Lightly add cooking oil to the foil or cast-iron pan. Sear for three to four minutes per side.
Add cheese (skip or use vegan cheese for any dairy-free guests). Put on a toasted bun. Add condiments. Enjoy!
Rosemary-Garlic Tomahawk Steak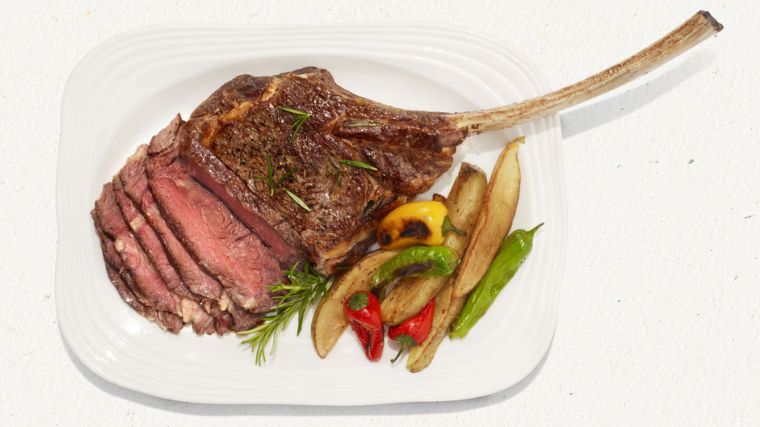 Serves: 4
Protein per serving: 24.2 grams per 100 grams of tomahawk steak (6)
Prep time: 35 minutes
Cook time: 30 minutes
Sometimes the best-tasting steak is the simplest. You'll only need a few ingredients for this one, most of which probably already be in your pantry.
It won't take much work to make this steak a success, but you'll want to begin the process well ahead of your grilling time. Make sure you marinate the meat the night before or the morning of for the best taste and texture.
Ingredients
Assemble your marinade, but have some ingredients set aside for cooking.
For the marinade:
1/4 cup extra-virgin olive oil
2 tbsp fresh or dried rosemary,
6 garlic cloves minced
1 30-ounce ButcherBox tomahawk steak
Kosher salt
freshly ground black pepper
additional herbs, if desired
For the steak:
Kosher salt
freshly ground black pepper
2 tbsp refined oil, preferably safflower, sunflower, or canola
Instructions
Marinate the steak ahead of time, at least for half an hour. The actual cooking won't take long.
For the marinade:
In a medium mixing bowl, whisk together the oil, garlic, and rosemary. Season to taste with salt and pepper.
Put the tomahawk steak in a shallow baking dish or a Ziploc bag. Pour the marinade to cover the steak. If using a dish, cover first, then refrigerate for at least 30 minutes and up to eight hours, turning the steak over to ensure even marination.
For the steak:
When you're ready to cook, remove the steak from the marinade and pat dry with paper towels. Season steaks generously with salt and pepper (approximately one teaspoon per pound of steak).
Preheat an oven or the outdoor grill to 375°F.
In a large, heavy skillet (preferably cast-iron or stainless steel), heat two tablespoons of oil over medium-high heat until it's just starting to smoke. Lay the tomahawk steak into the skillet and sear for three to five minutes on each side.
Then move the steak onto a baking sheet and transfer it to a preheated oven to cook for 15 to 20 minutes. Alternatively, you may cook it directly on the grill. To cook on the grill, turn off one burner and move the steak over that burner. Keep the lid of the grill closed. For both finishing methods, rotate and flip the steak a few times to help get even doneness while cooking.
Use a meat thermometer to check the temperature of tomahawk steak until desired doneness. For medium-rare, cook the tomahawk steak to 130 to 135°F as measured by a thermometer at the deepest part near the bone and allow it to rest for at least three minutes. Please note: the United States Department of Agriculture (USDA) recommends cooking beef to a minimum internal temperature of 145°F as measured with a food thermometer, before removing food from the heat source and allowing it to rest for at least three minutes. (7)
Serve on a platter, topped with compound butter, and cut the tomahawk steak against the grain in thin slices. Serve with your choice of sides.
Grilled Pork Tenderloin With Oregano Salt Rub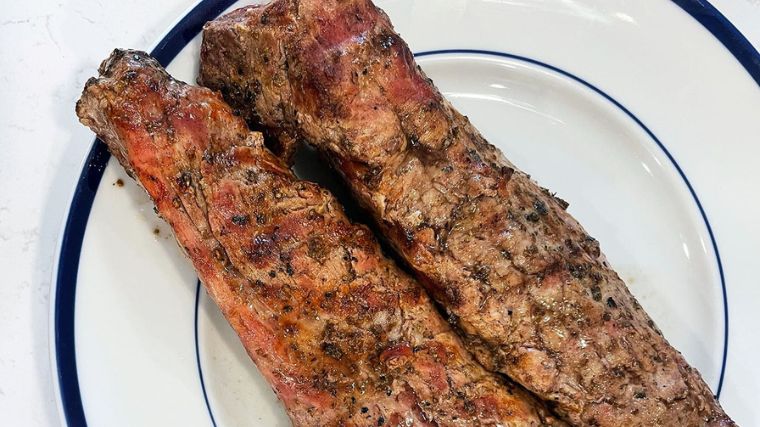 Serves: 4
Protein per serving: 20.6 grams per 100 grams of pork tenderloin (8)
Prep time: 5 minutes
Cook time: 18 minutes
If you're looking for a simple recipe that will sound — and taste! — fanciful to friends and family alike, here's the dish for you. You'll seem like an expert while serving it, even if you're not the most expert chef on the block.
Ensure you're not rushing the process; give the meat enough cooking time (yes, even if you're cooking it rare). Here's how to make a delicious oregano salt rub.
Ingredients
1 package ButcherBox Pork Tenderloin
2 teaspoons salt
1 tablespoon oregano
2 tablespoons avocado or grapeseed oil
Instructions
Heat grill to 400°F.
Place pork tenderloin on a sheet pan.
Mix salt and oregano in a small bowl.
Rub avocado or grapeseed oil onto pork tenderloin, followed by the oregano salt mixture.
Grill pork tenderloin for about 18 minutes, flipping it halfway through the cooking time. Remove the pork from the grill when it reaches an internal temperature of 145°F, as measured by a meat thermometer.
Serve with a lemony, garlicky hummus, or tomato jam for real pizza vibes.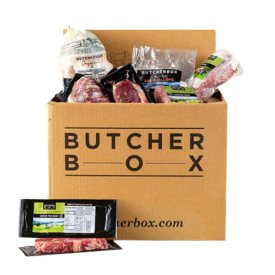 Looking to add more protein into your diet? The search for high-quality meat ends here. Amazing taste. Humanely raised. Delivered to your door. And as a BarBend reader, sign up today and get 2 lbs FREE ground beef in every box for a whole year. Imagine how many meals that is.
Recipe Hacks
Depending on your Memorial Day vibe, you can reign in the calories or opt for more indulgent options if you're in a #IDGAF mood. Below, we outline recipe tweaks in either direction.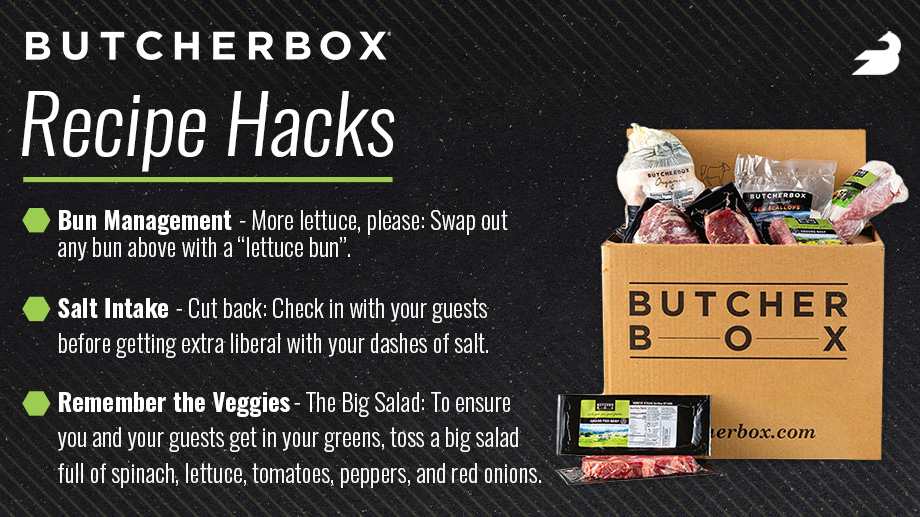 Note: Remember, eating off plan for a meal, or even a day, won't send your progress into a tailspin. Enjoy the foods you want guilt-free, then recalibrate the next day if you have a specific goal!
Bun Management
More lettuce, please: Swap out any bun above with a "lettuce bun". Take two large pieces of iceberg lettuce, trim them to fit the size of your burger, and treat them as you would a normal hamburger bun.
IDGAF: Brioche buns are slightly fattier and more caloric than standard hamburger buns. These glistening beauties contain more eggs and butter, creating a richer bite and allowing for optimal toasting.
Salt Intake
Cut back: Check in with your guests before getting extra liberal with your dashes of salt. Instead, opt for small sprinkles or different, salt-free flavor profiles entirely.
Get that flavor: Experiment with any number of low- or no-sodium marinating options for increased flavor. Consider coconut aminos, low-sodium soy sauce, or low-sodium hot sauce to give your food the richness you want.
Remember the Veggies
The Big Salad: To ensure you and your guests get your fair share of greens, toss a big salad full of spinach, your favorite types of lettuce, tomatoes, peppers, and red onions. Guests can add proteins to their salad to make it heartier and more satiating.
Marinate and grill: Want some more substantial greens? Marinate some veggies similarly to your meats — or simply in some classic balsamic vinegar and olive oil — and then grill them up. Portobello mushrooms, peppers, red onions, and thick slices of beefy tomatoes are great grill accompaniments. (For your vegetarian and vegan guests, reserve part of the grill for veggies to eliminate cross-contamination.)
Why Protein Matters
Whether you're a weekend warrior or a competitive strength athlete, protein is essential to fueling high-quality workouts. Carbs give you energy during training sessions, and dietary fat will keep your entire body functioning at peak efficiency.
But protein is the macronutrient that unites strength athletes across the training spectrum. Filling your plate with high-quality protein sources will help you build muscle tissue if you aim to gain muscle. If you want to lose body fat, eating more protein keeps you full and helps your body hang onto muscle mass. Here's why protein is essential to your barbecue plate and meal prep alike.
Protein Intake Calculator
Age
Sex
Height
Weight
Goal
Activity Level
Do you know your body fat percentage?
Muscle-Building Potential
Chasing that X-frame? Aiming to fuel the chest hypertrophy of your dreams? We have two words for you: training and protein.
Protein is an absolutely essential component of building muscle. This macronutrient helps your muscles repair after training sessions, ultimately building themselves back bigger and stronger. (9)(10) Muscle protein synthesis builds those boulder shoulders and teardrop quads, and dietary protein fuels that process and those gains. (11)(12)
Whether you want to get big or simply gain enough muscle mass to supercharge your next one-rep max attempt, protein is your plate's best friend.
Workout Recovery
Training hard is what helps you build back stronger, bigger muscles. But in the meantime, an intense workout will break down those muscles. Don't worry, though. Fuel your body properly, and it'll return stronger. Without a sufficient supply of protein, however, your workouts may start to suffer. (13)
Protein is essential for helping your muscles recover and regenerate after tough workouts. (10) An adequate supply of protein is one key reason you don't lose strength and power in the long term when you subject your muscles to regular stress and external resistance. (10) So even if it's not bulking season, ensure you get enough of what you need to keep your muscles functioning at peak capacity.
Builds Strong(er) Bones
It's not just calcium that builds strong bones. Consuming adequate amounts of protein also helps you maintain bone health and even prevent bone degradation over time. (14)(15) Strength training can generally increase bone health, as you're training your skeleton to hold up — and build itself up stronger — under external load.
Getting adequate protein ensures that you're supporting these efforts in the gym with your habits in the kitchen (or cookout). The more you support your body with what you eat, the more you're likely to be rewarded with the gains you're training for.
How Much Protein Should You Eat Per Day?
You need protein to grow big and strong — period. Even if you're not looking to get beefy, a high-protein burger is key to making sure your muscles can hold up during even your toughest of workouts. But how much do you actually need?
Aiming for 1.2 to 1.6 grams of protein per kilogram (0.55 to 0.73 grams per pound) of body weight seems to be helpful for growth. Upping your intake to as high as 2.2 grams per kilogram (one gram per pound) of body weight may be appropriate for athletes on a serious muscle-growth mission. (16)(17)(18) If you're an athlete who weighs between 110 and 330 pounds, this translates to anywhere between 60 and 330 grams of protein per day. (17)(18)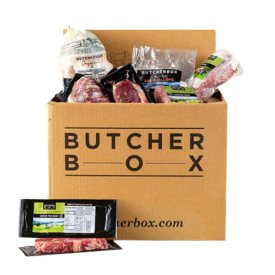 Looking to add more protein into your diet? The search for high-quality meat ends here. Amazing taste. Humanely raised. Delivered to your door. And as a BarBend reader, sign up today and get 2 lbs FREE ground beef in every box for a whole year. Imagine how many meals that is.
On the other hand, you might be looking only to eat enough steak to maintain your muscle mass instead of going up a shirt size. Eating between 0.7 and 0.8 grams of protein per kilogram of body weight per day may be the minimal effective dose you need to keep your muscles ready to go. (19)
Want to personalize those numbers? Use BarBend's protein intake calculator to get daily protein goals catered to you.
Plan Your Cookout
Your Memorial Day cookout isn't just going to be chock-full of protein. With these ButcherBox recipes, the rich flavors will keep your guests returning for more. These high-protein recipes will please meat-eaters and vegans alike. And since you'll be getting your meat delivered from ButcherBox, you know everything will be from a high-quality source.
The only problem? You'll have to make extra to ensure you can settle in with leftovers after the family heads home.
References
Chicken, broiler or fryers, breast, skinless, boneless, meat only, cooked, braised. FoodData Central. U.S. Department of Agriculture. https://fdc.nal.usda.gov/fdc-app.html#/food-details/331960/nutrients
Bison, ground, grass-fed, cooked. FoodData Central. U.S. Department of Agriculture. https://fdc.nal.usda.gov/fdc-app.html#/food-details/173847/nutrients
Fish, salmon, chinook, cooked, dry heat. FoodData Central. U.S. Department of Agriculture. https://fdc.nal.usda.gov/fdc-app.html#/food-details/171999/nutrients
Beans, white, mature seeds, canned. FoodData Central. U.S. Department of Agriculture. https://fdc.nal.usda.gov/fdc-app.html#/food-details/175204/nutrients
Chickpeas (garbanzo beans, bengal gram), mature seeds, canned, drained solids. FoodData Central. U.S. Department of Agriculture. https://fdc.nal.usda.gov/fdc-app.html#/food-details/173800/nutrients
Beef, ribeye cap steak, boneless, separable lean only, trimmed to 0″ fat, choice, cooked, grilled. FoodData Central. U.S. Department of Agriculture. https://fdc.nal.usda.gov/fdc-app.html#/food-details/173055/nutrients
Safe minimum internal temperature chart. Food Safety and Inspection Service. U.S. Department of Agriculture. https://www.fsis.usda.gov/food-safety/safe-food-handling-and-preparation/food-safety-basics/safe-temperature-chart
Pork, fresh, loin, tenderloin, separable lean and fat, raw. FoodData Central. U.S. Department of Agriculture. https://fdc.nal.usda.gov/fdc-app.html#/food-details/168312/nutrients
Camera DM. Evaluating the Effects of Increased Protein Intake on Muscle Strength, Hypertrophy and Power Adaptations with Concurrent Training: A Narrative Review. Sports Med. 2022 Mar;52(3):441-461.
Deldicque L. Protein Intake and Exercise-Induced Skeletal Muscle Hypertrophy: An Update. Nutrients. 2020 Jul 7;12(7):2023.
Stokes T, Hector AJ, Morton RW, McGlory C, Phillips SM. Recent Perspectives Regarding the Role of Dietary Protein for the Promotion of Muscle Hypertrophy with Resistance Exercise Training. Nutrients. 2018 Feb 7;10(2):180.
Murphy C, Koehler K. Energy deficiency impairs resistance training gains in lean mass but not strength: A meta-analysis and meta-regression. Scand J Med Sci Sports. 2022 Jan;32(1):125-137.
Groenendijk I, den Boeft L, van Loon LJC, de Groot LCPGM. High Versus low Dietary Protein Intake and Bone Health in Older Adults: a Systematic Review and Meta-Analysis. Comput Struct Biotechnol J. 2019 Jul 22;17:1101-1112.
Wallace TC, Frankenfeld CL. Dietary Protein Intake above the Current RDA and Bone Health: A Systematic Review and Meta-Analysis. J Am Coll Nutr. 2017 Aug;36(6):481-496.
Iraki J, Fitschen P, Espinar S, Helms E. Nutrition Recommendations for Bodybuilders in the Off-Season: A Narrative Review. Sports (Basel). 2019 Jun 26;7(7):154.
Bandegan A, Courtney-Martin G, Rafii M, Pencharz PB, Lemon PW. Indicator Amino Acid-Derived Estimate of Dietary Protein Requirement for Male Bodybuilders on a Nontraining Day Is Several-Fold Greater than the Current Recommended Dietary Allowance. J Nutr. 2017 May;147(5):850-857.
Schoenfeld BJ, Aragon AA. How much protein can the body use in a single meal for muscle-building? Implications for daily protein distribution. J Int Soc Sports Nutr. 2018 Feb 27;15:10.
Tagawa R, Watanabe D, Ito K, Ueda K, Nakayama K, Sanbongi C, Miyachi M. Dose-response relationship between protein intake and muscle mass increase: a systematic review and meta-analysis of randomized controlled trials. Nutr Rev. 2020 Nov 4;79(1):66–75.